According to a recent survey of 1,000 hiring managers conducted by Clarify Capital in September 2022, 68% of managers had job postings active for more than 30 days; 1 in 10 has had a job posting open for over 6 months; 1 in 5 managers don't plan to fill their current open job positions until 2023; and 50% of managers keep job postings open because they're always open to new people. The survey also show why employers post ghost jobs.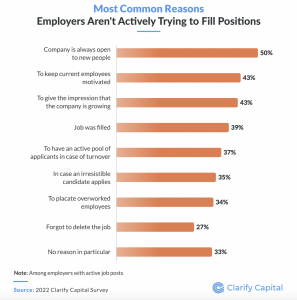 Whatever the reason, it looks like many employers do not really intend to hire anyone these days, perhaps due to uncertainties about the economy. And that is why job seekers should avoid applying for ghost jobs and use effective job search techniques to achieve a higher interview rate.  Here's what job seekers can do:
Look through jobs by using filters. A job that was posted last week is more likely to be actively hiring than a job that was posted two months ago.
Choose 5-10 jobs and read job descriptions carefully
List relevant work experiences, skills and accomplishments according to job descriptions
Write a resume and a cover letter using powerful keywords and, if necessary, create different versions
Apply for jobs
After called in for an interview, research the company
These techniques will prevent job seekers from wasting time on ghost jobs that are not intended to be filled soon.